Thursday, March 8th, 2007
London Calling 2007
British BAFTAS
(les reporting)

Took off optimistically for London for the BAFTA Awards, staying with writer/cinematographer Roland Denning. He's finishing his first novel which, from initial readings is really cougat- we're all looking forward to the finished book.
A 'Nominees Soiree' took place the night before the actual BAFTAS, which we thought was going to be a relatively low key affair, we might have guessed otherwise though because the venue was the Natural History Museum in Kensington (the one with the life-size dinosaur in it). Roland drove us there and when we arrived we immediately figured that it was going to be rather a chi chi affair because there were searchlights gyrating into the night sky, paparazzi in numbers at the front entrance and very tall impossibly thin blonde models floating past into the sumptuousness of the museum foyer.
The first person we met was Sam Fell, Director of 'Flushed Away' which was nominated for Best Animated Feature. On entering the actual venue itself the main 'Dinosaur hallway' – we were overwhelmed with the sheer aesthetics of it all – this was no five and dime thrash – oh no. The whole place was spectacularly and beautifully lit with white star walls and purple lighting 'Gerty' herself formed the centerpiece, under lit in purple with the main champagne bar under it's belly. We'd been told that the Royal Ballet were going to be there 'doing some performances' which was a bit of an understatement. In the raised alcoves surrounding the hall they danced erotically as couples, in white skimpies – wow – very cool & sexy to great music from the DJ. Next person we met was British actor/comedian Rob Brydon who did all the male voices in 'Body Beautiful' and who we thought was going to do the same in 'Family Ties' but for one reason or other we didn't get him. We talked about fame and his new 'life at the top', – very very friendly – and we tempted him with the male leads in our next film 'Beverly Thrills'– "Write me a big enough part and I'll do it" he promised "I've got a big ego!." With a promise like that we have to take him up on this!
After a few more champagnes we loosened up a bit, ending up standing under the dinosaur next to none other than Pedro Almodovar and Penelope Cruz. Star struck and giggling, we didn't know quite how to deal with it ie should we switch to brown nose mode or just stare? Eventually Joanna almost wetting herself persuaded me to ask him for a shot on her mobile phone – "Perdoname Ped, mi novia quiere grabar un photo de vosotros en su movile – es possible?" – " Si, si por supuesto.." replied Ped generously, whereupon him and La Cruz both posed beautifully for Joanna. Unfortunately Joanna froze momentarily, then panicked profusely, couldn't focus and eventually fucked up the whole production – all she got was a sort of psychedelic, totally unrecognizable mélange of colour.
"You couldn't ask him to pose again could you?" winged Joanna. Helped by a quick hit of champers I reluctantly summoned up enough courage and cheekily tapped Pedro on the shoulder and said "Por favor Ped, es un disastre – mi nobia es incompetente – no ha grabado tu photo todavia, es possible por hacerlo otra vez?" Half expecting him to say "Mierda- piss off" we were surprised with his charming "Si, si" response, yet again striking up a classic 'Goyaesque' pose for her. There's something about the Spanish, they have an fantastic inbuilt ability to hold perfectly still poses endlessly – everybody does it – kids in the street, complete strangers, old ladies – at the sight of a camera lens they seem to be able to switch on this elegant inanimate mode instantly – it's uncanny. Next time you're in the Prado check out the Velázquez's – they're all doing it in them – definitively!
Unfortunately Joanna's photographic professionalism had deserted her yet again. We stood there, an absurd tableau, a moment of frozen embarrassment and celebrity. The contrast couldn't have been starker – two of the world's most celebrated icons of contemporary cinema, perfectly posed, super cool, standing smiling beneath a giant dinosaur carcass while this gibbering wreck fumbled endlessly with her mobile —
"I dunno, it's, it's – I can't, it won't bloody focus, I think the batteries are low ..aw no, fucking hell – oh I think I got something, oh no, yes maybe I …"
My intervention was swift.."Lo siento Pedro – muchas gracias …"The couple melted back into their appropriate celebrity group, the massive shoulders of their scowling minders visibly relaxing. "Whatcha get.. lemme see…"
'Bring me the back of the head of Pedro Almodovar' adequately describes the tiny image revealing itself on Joanna's mobile. It was indeed the distinctive hair and nape of Pedro dominating the foreground and thankfully Penelope's instantly recognizable smile lurking in the background, set in a weird impressionistic colour field background.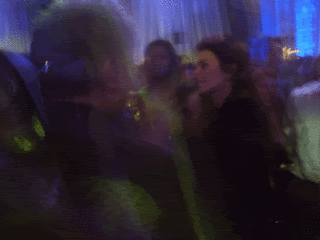 The next night at the actual BAFTAS ceremony at the Royal Opera House Covent garden, we failed to win the BAFTA – at least we were in good company though – Susie Templeton's 'Peter & the Wolf' and the winner Ian Gouldstone's 'Guy 101'.
Ah well you win some, you lose some and the Dinosaur night was pretty cool!
Tampere Short Film Festival Finland. March 2007

We 'Ryanaired it' over to Finland for a very brief visit. On the plane over a voice suddenly yelled out "Hey Les…". It turned out to be a student who Les had taught about 10 years ago at Film School in Wales – Ben Northover. It transpired that he was festival headed and was working with a major icon of the American underground film movement, Jonas Mekas who was going to be at the festival for a big retrospective. 'The Brig' is one of my all-time favourite short films which Jonas made in the 60's with the famous 'Living Theatre' group – shot overnight in a warehouse in Manhattan. For me it's a brilliant evocation of the brutality and futility of military discipline, extremely balletic and powerful. Later on in the festival Ben introduced us to Jonas who's now in his 80's but still filming furiously – great!

Weather-wise the contrast between the Animac Festival in Lleida Northern Spain where we'd just come from, couldn't have been greater – minus 2 degrees, snow everywhere, the taxi driver – classically Finnish, blasting out Heavy Metal on his CD player.
What a great festival Tampere is – a fantastic programme overall, a gem in the short film festival circuit, some films that you would never see anywhere and some great documentary sessions. We only had a day there but we packed in what we could, catching a selection of shorts specially selected as classics, including Polanski's '2 Men and a Wardrobe' and an uncompromisingly bleak Iranian film shot in a leper colony in the early 60's – incredibly powerful and moving. The festival strikes a really good balance between screening international cinema and nationally produced material and focusing on the thematic, and cinema from the developing world as well as material from the Finnish Film Archive and new student films. There were three programmes on Black Africa, programmes on the role of Sound in Film within which there was an session on the music work of Spike Jonez. The overall progamme is inspired, it's not very often you get to see such a breadth of material in one place and featuring films which would not get an airing in normal distribution circuits Where else would you see a whole programme devoted to the the work of Jean-Gabriel Periot or see two documentary programmes on Finnish national hero Mannerheim? Of course for us (Les in particular) there was the Mekas retrospective and a diary session which was like a roll call of all the old 'Beatnik' and New York underground film glitterati. Having been grounded in the Beat generation it was quite nostalagic seeing the likes of Ginsberg, Breer, Brakhage etc reincarnated through the shaky lens of Mekas's Bolex.
We were welcomed in the Town Hall by the Mayoress of Tampere, who it turned out knew Wales quite well. Everybody met in the evening in a very convenient bar/ restaurant but we missed out on the 'specialite de la maison'- barbecued Bambi and there was no naked sauna. The Finns have a tendency to put away quite a bit of alcohol – a bit like the British really – it must be all those long dark, icy winter nights! We met a very determined young women from London who appeared to fancy a 'fling with a Finn' – one of the heavy metal variety we think – but she was great fun – what dedication to the cause – wow unstoppable!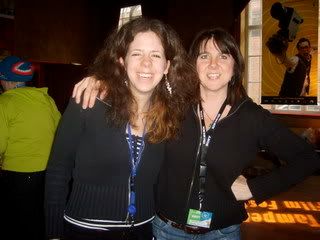 'Family Ties' went down particularly well with the audience after a brief introduction by Joanna. Everybody had told us that Finnish audiences were rather quiet in their responses but that wasn't the case with 'Family Ties' which got an excellent and vociferous response and in the event we won the Audience Prize and the UIP Prize which means 'Family Ties' will go forward to compete in the European Academy Short Film Awards in Berlin in December, competing against the likes of Daniel Mulloy's uncompromising and memorable Live Action short 'Dad' which has already picked up many awards. We thought that the projection and sound quality in the cinema where our film was shown was superb – the best yet and we've been to quite a few festivals lately!
What did we learn about our first trip to Finland? We'd heard that the Finnish people are really into head banging, heavy metal music – it's true! They're great – very friendly a great sense of humour. You should never ever call a Finn Scandinavian. They are a kind, independently minded people with a love of culture and, in particular, film. We left Tampere for the airport to the strains of a 'Judas Priest' track thumping out of the taxi radio – as general McArthur famously said.. "we shall return "- but first we have to get stuck into our next film- 'Beverly Thrills'